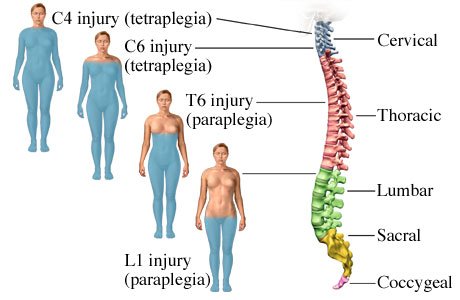 Spinal cord injuries generally begin with a blow to the spinal column. The force can fracture or dislocate vertebrae – the bone segments in the back. And spinal cord tissue is damaged.
A wide range of symptoms can be experienced, depending on the severity and location. Some spinal injury victims can expect full recovery with rehabilitation. Other injuries are more serious and can result in paralysis. In either case, rehabilitation is important to treatment and repair.
In addition to limiting mobility, spinal cord injuries can result in additional issues, such as respiratory problems.
Our clinic has all the resources needed for specialized spinal cord injury care. The team approach puts the right experts and therapies together for the best possible outcome, focused on:
A custom treatment plan, specific to the patient's needs
Medical care and recovery
Training and adaptation
Supporting the emotional needs of both the patient and caregivers
Accessing home-based services as needed
Maximizing function at the fullest potential, despite limitations
Spinal Cord Injury
At any level, complete or incomplete, rehabilitation plays a critical role in quality of life after a spinal cord injury. Our hospital has the experience and depth of expertise to execute the right plan of rehabilitation therapy.
Prevention
According to the American Association of Neurological Surgeons, motor vehicles are the leading cause of spinal cord injury (SCI) in the United States for people under age 65 and falls are the leading cause of SCI for people 65 and older. Sports- and recreation-related spinal cord injuries primarily affect people under the age of 29.
To prevent injury in a motor vehicle:
Always wear a seat belt.
Secure or buckle children into age- and weight-appropriate seats.
Never drive under the influence of alcohol or drugs.
Do not ride in a car with a driver who is impaired by alcohol or drugs.
To help prevent falls:
Secure banisters and handrails at all stairwells.
Install grab bars and non-slip mats on the bathtub and shower floor.
Exercise regularly to keep muscle tone and balance.
Wear sturdy non-slip shoes.
Perform a home safety check and remove things that may be tripped over.
To prevent injury during recreation:
Wear properly fitting helmets, clothing, knee and elbow pads, wrist braces and gloves.
Bike a minimum of three feet from parked cars, in case a door opens.
Follow all rules, warning signs and traffic regulations during recreational activities
Inspect equipment for damaged parts and discard or replace if damaged.
Check your recreation area for rocks, debris and uneven surfaces.
Sources: National Spinal Cord Injury Association, The American Association of Neurological Surgeons and The Brain Injury Association of America
Treatment
Rehabilitation for spinal cord injury patients requires a specialized and coordinated process to enhance a patient's physical, emotional and psychological ability. Patients at our hospital benefit from neuro-rehabilitation treatments that maximize independence in self-care, activities of daily living and mobility skills.
The spinal cord injury rehabilitation program includes:
The latest rehabilitative care and technology
Individualized treatment plans
Education and training for patients and their families
A seamless transition to home through community re-entry programs
Our spinal cord injury rehabilitation program has improved abilities for patients with: 
All levels of spinal cord injuries from C2 vertebrae to the lumbar spine, L5, S1
Other spinal cord conditions such as spinal muscle atrophy and spine surgeries like laminectomies and tumor surgeries
Spinal viruses like Traverse Myelitis, Guillane-Barre Syndrome and Multiple Sclerosis
Congenital defects like Spina Bifida
Support
In order to maximize the quality of life after a spinal cord injury, seeking support and knowledge can be beneficial to treatment and recovery.  If you or a loved one is living with a spinal cord injury, there are resources available:
Contact Us For More Information here.